Skills and craftsmanship give new life to old tools at Polet
Polet is a Belgian tool manufacturer with a passion for craftsmanship. Polet designs quality bespoke tools based on deep-rooted knowledge and expertise. In this way, the company supports professional workers' performance of manual tasks for a range of industries. Where other tool manufacturers have opted for mass production only, Polet takes a different approach. Much of its production process is carried out by hand, making every tool a unique object. This remarkable company even makes tools that are specific to a certain region and have become otherwise impossible to find.
Thierry Vanwinkel is a sales representative for Polet in France and is happy to go into more detail about the company's deeply rooted, Belgian expertise.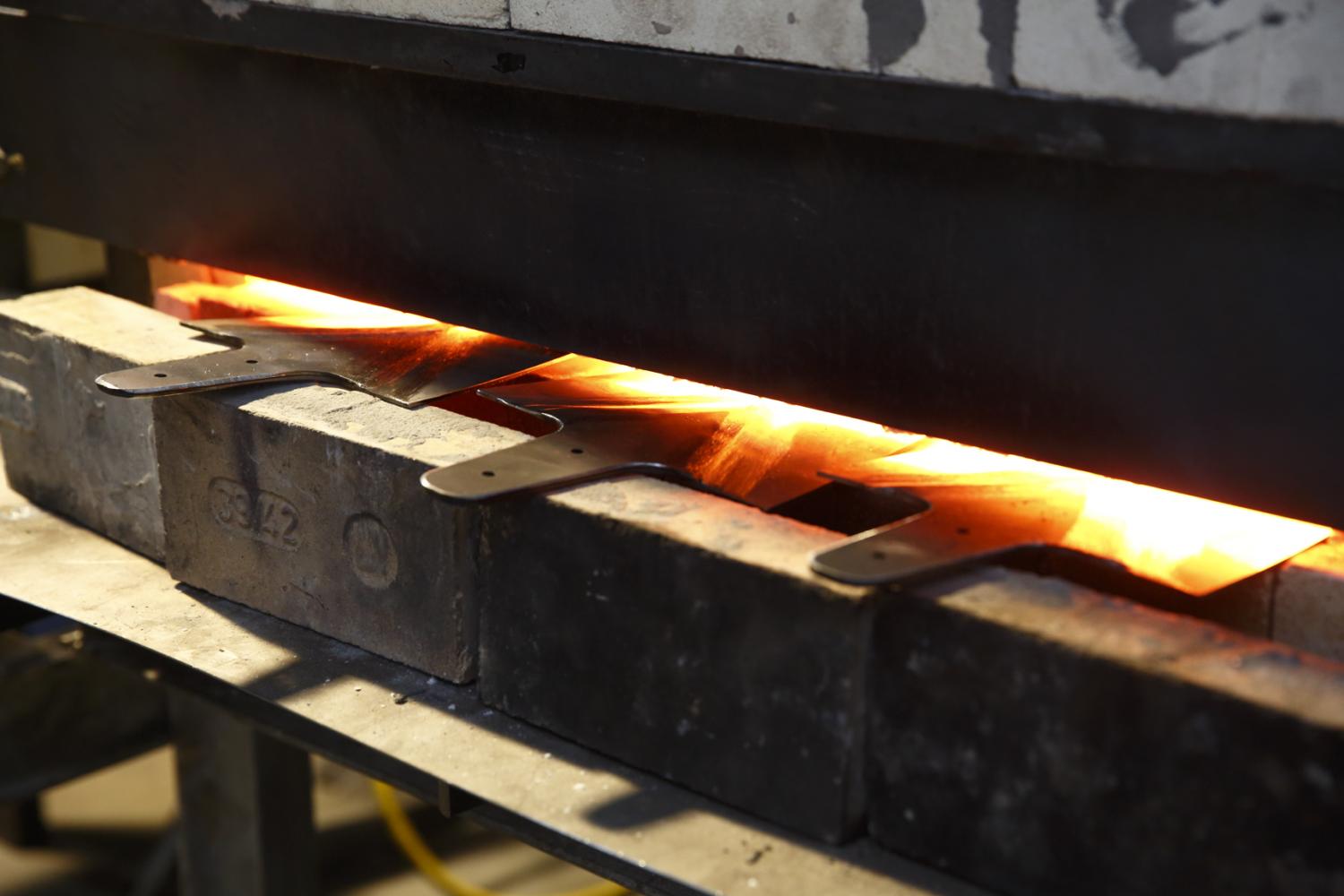 Quality handmade tools, manufactured in Belgium
While the fast-growing company had only a small foothold in France at first, it currently supplies over 300 French companies. Polet offers a large selection of quality gardening, manufacturing and industrial tools, which it sells to retailers and professionals under the Polet Traditional, Polet Gardening and Polet Construction brands. In addition, the company also produces bespoke tools in quantities starting at 100 pieces under its Traditional label. According to Thierry, who has been selling Polet products for more than eight years now, the company's success is due to its tools' superior quality. Years of investment in marketing, professional relationships and craftsmanship have also proved their worth. 'One of our greatest strengths? The fact that thanks to our smiths' knowledge of their craft, we can bring back tools that would otherwise have been lost for good. They go to work based on a quote, drawings or old tools found in forgotten corners, in sheds, attics and at flea markets,' Thierry explains.
Every tool is a reflection of Polet's DNA
This Belgian smithy is deeply dedicated to the art of tool design. Polet employs numerous highly motivated, passionate craftspeople who love nothing more than to create new tools out of thin air. Workers and other professionals use these tools to produce their own creations in turn. Nothing could be more gratifying, says Thierry. 'Often, those who come to Polet are just as passionate about their own craft. With bespoke, quality tools, they enjoy their work even more and can do a better job, too.' Thierry is convinced you can always tell tools produced by Polet's forge. Polet's traditional tools are unique and rough in texture. That's because Polet's smiths hammer the blades into shape. This imparts a naturally sharp, long-lasting edge. After forging, Polet tools are finished with a layer of varnish, adding another dimension to their unique appeal. Although much of the process is manual, one-off orders are not possible, unfortunately. 'The minimum quantity for bespoke orders is 100 pieces. That's due to the fact that there's also a lot of preparatory work prior to the actual production. Even when quantities are larger, though, every single Polet tool is guaranteed to be unique,' Thierry continues. Polet ventures to claim that few can say the same.
Streamlined process for the creation of bespoke tools
But how can such lost tools be reproduced? Isn't that impossible? Not at all! Polet enjoys the challenge of bringing an old item back to life. If at least one original tool remains available, this does make things simpler. This ensures that Polet's smiths won't have to guess the dimensions, diameter, length of the handle or thickness of the steel. Thierry says working based solely on drawings can be much more difficult. 'A tangible object is just easier to copy.' With such a unique design and production process, it's not surprising that various intermediaries are involved along the way. When a customer comes to one of Polet's sales representatives with a specific request, they begin by collecting all the required information. 'The main thing is the workers' own ideas about what matters most,' says Thierry. 'We take the individual users' requirements into account, perform careful measurements, and then start fitting the puzzle pieces together. A tool's handle and how it curves are important, of course, but there's much more involved than that.' Once the customer and sales rep have agreed on all the relevant details, the request is translated into a design concept. The customer approves the concept and the sales rep presents it to the management, which determines whether to proceed with the order. If the order receives the go-ahead, the smithy produces a limited number of prototypes.
Excellent follow-up and expertise
The sales rep then takes the finished prototypes to the workers for extensive testing. They also provide them with advice on how to use the tools to their best advantage, of course. Thierry always emphasises the importance of ergonomics, for example. After testing, the design is adapted as necessary, after which production in the smithy can begin. 'This process allows us to design well-balanced tools that fit the hand comfortably and are 90% effective. 'Tools are like shoes: if they don't fit just right, the workers will refuse them,' says Thierry. Proper follow-up in the field allows Polet to design unique, effective tools, fully adapted to the needs of the workers who will be using them.
Examples of unique projects
Special tools for famed wine and champagne-producing regions
There is a growing demand for organic wines. The production of such wines requires equipment, but also a lot of manual labour. That's because vineyards tend to be located on steep slopes that are difficult for machines to access. 'To make weeding easier, we developed tools with longer handles, from 1.70 to 1.75 metres in length. That way the workers needn't bend over as far, which is better for their backs,' says Thierry. Thanks to this personal interaction, Polet tools give workers the feeling that they are working with specially adapted, custom equipment. Many of them show an appreciation of the tools. Various wine and champagne-producing regions also come to Polet specifically due to the company's expertise. For instance, the Polet Traditional Champagne hoe is specially designed for vineyards in the Champagne region, where the ground contains many small stones, making weeding around the vines difficult. Polet has also designed a hoe with a specific shape for Châteauneuf-du-Pape's vines, as well as bespoke tools for vineyards in Sancerre, near Burgundy.
Industrial applications, fire hydrant keys and other handy tools
Polet supplies a wide range of industrial clients with various useful tools as well. One example is a special 'spoon' for Umicore for the extraction of material samples from the hot oven. The Brussels fire service also relies on Polet for keys and bars with which to access fire hydrants and drain covers.
Distributors of gardening, construction and industrial equipment
Polet also sells its tools through shops that specialise in lawn mowers, ploughs, hedge trimmers, tree pruners, and other gardening equipment. These sell the tools on to professionals who are looking for specific equipment that will allow them to do their work to the best of their abilities. 'Polet is often imitated, but seldom equalled.'
Are you a professional in search of a specific tool?
The Polet Traditional series offers endless possibilities, as you see. Any company in search of a specific piece of equipment is welcome to take advantage of our company's exceptional expertise and craftsmanship. Do you have a new challenge for us? Polet's sales department will get to work on your request, after which our skilled workers will produce your unique, bespoke tools in quantities as low as 100 pieces. That way, your staff or customers will be able to work more effectively than ever before. Isn't that a lovely thought?